So much of life is wrapped up in relationship, isn't it?  That's really what it's all about!  Good relationships make a marriage, friendship, family, even a business work so much better.  And our relationship with God, well, that's essential to it all!  It's no different with life coaching.  It's all about a relationship between two people – you and me.  So let me tell you a bit about myself to get this "relationship" off on the right foot!
I'm Mary Sorrentino, your Joy on Purpose Life Coach.  Joy on Purpose Life Coaching really began many years ago, with a passion that God kept burning in my heart throughout my life journey, as I ministered to people just like us.  People who have sought to find His purpose and joy in the midst of sometimes extremely difficult life circumstances ~ people who serve, and love, and ask hard questions like "Where is the joy? How do I find peace in the midst of these hard times? Is there a purpose in all this?"
Like many of you, I too have struggled with difficulties in my life, with secret pain.  But my life challenges may not be the same as yours.  Some will have a family member who struggles with depression or alcoholism.  In other families, loved ones are addicted to drugs or pornography or gambling.  Still others are facing severe financial difficulties or chronic illness.  But no matter what we face in this life I am convinced that God wants to give us exactly what He promises in His Word ~ "A Hope and a Future" ~ "Joy Unspeakable" ~ and more!
That is why as a professional life coach, and serving for more than 20 years in various leadership roles in Christian women's ministries, I am excited to see how God is using my life experience and training to help bring joy and hope to those who intentionally seek Him through the wonderful avenue of Christian Life Coaching.  My work in ministry has provided a wealth of experience in pastoral counseling, discipleship, mentoring and coaching.  In addition to the work I've done through the Christian Community, I also served for over 15 years in corporate management, building teams and coaching my employees both professionally and personally.
My passion for excellence and dedication to professional integrity has led me to affiliate myself with the most reputable worldwide coaching and counseling organizations in both the Christian and secular arenas.  I am a member of the Christian Coaches Network, the International Coach Federation (ICF) and the American Association of Christian Counselors (ACCC).  I am committed to the highest professional standards of ethics and education, receiving my training and pursuing master certification through the Professional Christian Coaching Institute.
I was born in the Chicago suburbs where I grew up, had my family, went back to college to study Information Systems Management, and built my professional business career.  It was there that I also came to know the Lord in the early 1980's when our family was seeking "something real" to give to our baby daughter.  We moved to the Atlanta, Georgia area about 12 years ago and are now, as they say, "Northern by birth ~ Southern by the Grace of God"!  It is beautiful here and I'm happy to say the whole family is now in Atlanta; my wonderful husband, beautiful grown daughter and our black lab, Abraham.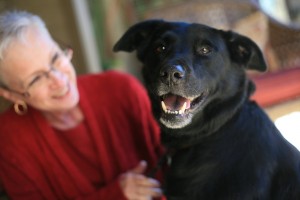 Yes, there is a story here ~ Abraham is a rescue dog, and became part of the family during a particularly difficult period in my life, when God was encouraging and teaching me some incredible life lessons.  It was one of those times when verses that I had read, probably hundreds of times before, seemed to just "JUMP" off of the pages ~ shaping my life from that time forward (and giving Abraham the black lab his name!).
Romans 4:18-21 has become for me, my true life verse.  "Against all hope, Abraham, in hope believed and so became the father of many nations, just as it had been said to him, 'So shall your offspring be'.  Without weakening in his faith, he faced the fact that his body was as good as dead–since he was about a hundred years old–and that Sarah's womb was also dead. Yet he did not waver through unbelief regarding the promise of God, but was strengthened in his faith and gave glory to God, being fully persuaded that God had power to do what he had promised."
Just like many of us, Abraham faced what seemed to be impossible circumstances.  And he didn't "sugar coat" the truth.  The verse says he "faced the fact that his body was as good as dead".  That sounds pretty realistic, huh?  And yet, he didn't see things through just the eyes this world.  He knew what he had been promised.  And more than that, he knew who had made him the promise.  And because of who his hope was in, he believed – against all hope – that God had the power to do what he said he was going to do!
It's that belief in God's power to do what he promises that allowed me to find Joy in the midst of a very difficult time in my life.  And it's that hope "against all hope" and "being fully persuaded' that will allow you to find Joy and Purpose and Peace in your life's journey too – whether you are in the midst of a storm or sailing on peaceful waters!
Through Joy on Purpose Life Coaching I promise to be, not an expert or a teacher, but a partner ~ to help you ask God and yourself the right questions, to seek new adventures and the journey God wants for you, and to move you closer to the joy and purpose He planned for you even before you were created!  It would be my privilege to walk alongside of you in your journey.
Please Contact me to find out more about life coaching or to arrange for a Free Informational Session.